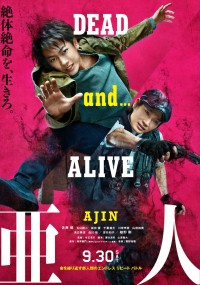 Ajin Demi-Human is a 2017 Japanese film based on the Gamona Sakurai manga. The premiere of the film took place on September 30, 2017 in Japan
Informations
Edit
Country: Japan
Category: R (16)
Production Year: 2017
Type: Action, Sci-Fi, Sensational
Box Office
Edit
Movie have opening 2441115 USD in Japan and earn 10 750 712 USD Having 1st place in Japan box-office in autumn season 2017.
Acceptance
Edit
Movie have 91% in rotten tomatoes.
Takeru Satō - Kei Nagai
Mamoru Miyano - IBM
Gō Ayano - Sato
Tetsuji Tamayama - Yu Tosaki
Rina Kawaei - Izumi Shimomura
Yû Shirota- Koji Tanaka
Creators
Edit
Director: Katsuyuki Motohiro
Writers: Hiroshi Seko, Masahiro Yamaura
Producers: Shinnosuke Usui, Yoshihiro Satô, Haruyasu Makino
Music: Yugo Kanno
Originator: Gamon Sakurai
Dystybuted: Toho
Fan Fact
Edit
Mamoru Miyano who play IBM in movie dubing too Kei Nagai in anime.
As part of promotion created a short live action spin off about Izumi Shimomura with Rina Kawaei
In movie does not appert Ko Nakano and Kaito
Film have another ending than anime or manga
Community content is available under
CC-BY-SA
unless otherwise noted.