This article is a stub! You can help the wiki by expanding it.
Ajin: Demi-Human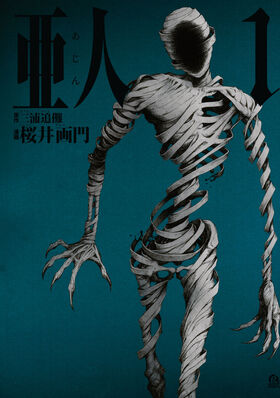 Information
Title:
亜人
Author:
Gamon Sakurai (artist and writer),
Tsuina Miura (former writer)
Original Run:
March 7, 2012 - February 5, 2021
Volumes:
17
Genre:
Adventure, Horror, Mystery, Seinen, Supernatural
Ajin: Demi-Human is a seinen manga written and drawn by Gamon Sakurai (桜井画門, Sakurai Gamon).
Tsuina Miura (三浦追儺, Miura Tsuina) is credited as the writer for only Volume 1.
The manga was adapted into 2 seasons and 3 movies by Polygon Pictures. The anime features its own original ending that is separate from the manga.
Plot Summary
[
]
Those who are resistant to death are called "Demi-Humans".
The story starts when Kei Nagai, a high school student, is killed in a traffic accident and then comes back to life. When he revives, Kei and those watching the crash realize that he is a Demi-Human. When the word gets out that he is a Demi-Human, Kei's world changes dramatically. Terrified and confused, Kei is saved by his friend, Kaito. Together, they flee deep into a deserted mountain.
After eluding the police in the mountains, a group of Demi-Humans who are hostile against humans contact Kei… Who is he fighting against? Who should he side with? As the story progresses it is made apparent that these Demi-Humans or Ajin can control beings known as black ghosts or IBM'S. These black ghosts can't usually be seen by non-Ajin unless under some extreme conditions like extreme fear or hostility. Kei is unique, in that his black ghost moves and acts beyond his will, meaning that he cannot control his black ghost like the rest of the Ajin can. Kei appears to behave like a normal boy his age would in the beginning of the story, until his true character is revealed. Kei has no real feelings of compassion or sympathy for most other humans. He only acts according to what the situation calls for, even confessing to not caring for anyone who isn't useful to him at the time. The only person who he seems to care for is himself, though he does seem to care for Kaito to a greater extent than other people he's encountered. Kei is extremely bright and at the moment that his strong point, for it allows him to formulate plans and escape tough situations. He is rational and thinks things through.
Chapters List
[
]
Main article: Chapters and Volumes