Appearance and Organization
Kanji

発現と組織について

Rōmaji

Hatsugen to soshiki ni tsuite

Information

Release

Japanese: March 7, 2013 English: October 14, 2014

Chapter

5

Chapter Guide

Previous
← Chapter 4
Next
Chapter 6 →
Appearance and Organization is the fifth chapter of the manga Ajin Demi-Human, written by Tsuina Miura and illustrated by Gamon Sakurai.
The chapter begins with Sato explaining to Tanaka how immortality works using video games as an analogy, questioning what happens if you had 100 lives in a video game, and used two at the same time; what would happen to the second life.
This ends quickly, however, and we return to Tanaka's Black Ghost vs Izumi. Tanaka's ghost says that when Ajin come back to life their bodies are essentially put back together fusing into the right place, but if a body part is to far away it will simply create a new one. "What if that piece was your head!?" it says before the Ghost takes a swing at Izumi, showing that he means to decapitate her.
Izumi summons her own black ghost however, who she refers to as "Blackie", and a fight ensews. In the end Izumi is victorious, as she uses blunt blows to destroy Tanaka's ghost's head, causing the IBM to vanish. It turns out that Tanaka's ghost was just a decoy however and Sato stole Eriko during the brawl.
The story cuts to Tosaki in a meeting with some people, showing them the video of Tanaka's breakout and the subsequent massacre of the entire facility using his black ghost, referred to as a "variant power" by everyone present. They discuss the strengths of the Ajin and just as Tosaki is about to change the topic, he receives a text from Izumi thinking "They must have butted heads as I'd hoped".
A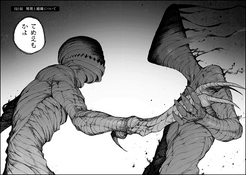 ​​​​​​​fter this we see
Kei
back in the abandoned building staring at his Black Ghost. He comes to the conclusion that he can't follow
Kai
's original plan and go to his grandparents town, doubting that they have no fear of the Ajin and stating it's too far away anyway. Deciding early on that this is as far as Kai can go, he tries to formulate a number of plans for escape from capture, eventually landing on contacting a community of Ajin, stating that there must be more than 3 Ajin in the country that simply haven't been discovered.
Kai returns from his trip and when he falls asleep after a few hours, Kei steals his phone and leaves carrying a few supplies. Kei quickly receives a phone call on Kai's phone from his sister, letting it go to voicemail as his sister is the only person that could figure out that Kai is helping him, but when Sato says from the other end "Have you ever seen a black ghost", Kei answers immediately. They exchange a brief conversation, Sato saying after he hangs up that he has high expectations for Kei. Kei however says that there are two types of Demi human communities, "A meek type, and a rough type", and that there are humans that deserve to die. But he soon says that if they ever rough up anyone they shouldn't he'll kill them.
Community content is available under
CC-BY-SA
unless otherwise noted.